Show #436: Sara Benincasa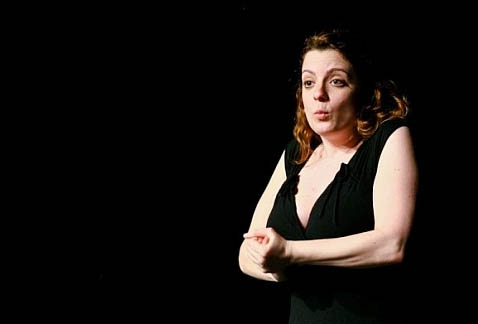 Show #436, which runs 50 minutes and 51 seconds, has just been released and can be listened to at this link. Our guest is Sara Benincasa, a charming and funny young woman who I met a few weeks ago at the very same cafe in which I witnessed an early copy of Jeffrey Eugenides's The Marriage Plot (in manuscript form) being handed to a hungry young man for a very quick review.  In fact, to ensure literary continuity (and find the quietest spot in a very noisy cafe), Sara and I even sat at the same table where this happened. 
Sara has written a memoir called Agorafabulous, in which she describes her struggles with agoraphobia, peeing in jars, and struggling for some relatively normal existence with these many problems.  In reading the book, I wasn't really squeamish about all this.  But I did feel a sense of sadness and sympathy, wondering why the outlandish confessional mode needed to be broached when Sara has a naturally funny voice on the page.  Our very lengthy conversation gets into this, with related repartee taking us into such topics as the Lindbergh kidnapping trial, an itemization of the dishes that Sara has learned to cook, and getting rid of a toy giraffe at the age of 31. 
Incidentally, Sara will be appearing at Word Brooklyn tonight.
Here's a partial transcript of the program's opening minutes:
Benincasa: I'm doing well. I mean, I got out of bed and out of my house.
Correspondent: You got out of bed?
Benincasa: I'm very excited.
Correspondent: How do you get out of bed?
Benincasa: Magically.
Correspondent: I mean, I think I got out of bed this morning. Obviously I met you here.
Benincasa: Yes.
Correspondent: But I obviously don't know how I do it sometimes.
Benincasa: Well, you know what? I was awoken by a fire alarm going off in my building. Which as it turned out was just a test. But it was very exciting. And it motivated me to get up. Because like most people who deal with depression and anxiety and certainly agoraphobia, getting out of bed is sometimes a challenge. Getting out of the house is a challenge. But in this case, I was so rudely awakened that it was just great, actually. And I got to work on time. It was amazing!
Correspondent: So you need a contextual noise these days in order to get out of bed?
Benincasa: I need you to yell at me.
Correspondent: I mean, how difficult is it now for you? Just out of curiosity.
Benincasa: It depends. Most of the time, it's all right. A lot of times, I wake up and my first thought is, "Oh no!"
Correspondent: Oh no?
Benincasa: Oh no! A day!
Correspondent: I don't think you have to be agoraphobic to have that thought. (laughs)
Benincasa: That's true. Absolutely. I think that's more of a function of probably an existential crisis.
Correspondent: It's the default setting for 21st century life.
Benincasa: Pretty much. But I think generally it's a lot better these days. I feel more motivated. Especially with the book coming out. I found that it helps to keep extremely busy. Like to overstuff my schedule. Because that is a very strong motivating factor. The fear of disappointing someone.
Correspondent: Overstuff your schedule? Like how overstuffed would you say? Down to every hour booked?
Benincasa: Oh gosh. Not every hour.
Correspondent: Two hour blocks?
Benincasa: You know, I do a lot of writing. I write for vice.com and for newnownext.com, which is LogoTV's gay site, and I write for xojane.com. And I write for a startup called bookish.com, a publishing startup. And then I make videos. And I travel. And I talk to colleges. And I do comedy. And so I really take on too much on purpose. Because it keeps the brain demons away.
Corespondent: Oh yeah. The brain demons. You allude to the voice saying "I want to die!" many times in the book. When was the last time you heard that voice?
Benincasa: Well, it's interesting. Because in the book, I chose to personify these urges I was having. It wasn't like having a voice outside my head. It wasn't like having a schizophrenic break, where I was experiencing auditory hallucinations. But it was like — when you listen to yourself and you think, "I need to listen to my inner voice. What is my gut telling me to do?" But your gut is all screwed up. Because all the signals are messed up. Because your brain is crazy. So it was more like that. It was more like, "Okay. I want to die. Yeah. Definitely want to die." It wasn't that long ago. It was really like four or five months ago. It was when I was finishing the final edits on the book. And I was in a relationship that ended in a sense. Because the guy moved a couple of continents away.
Correspondent: This is a recurring experience in your life, based on the book. (laughs)
Benincasa: Like I said, I think I need a lot of activity to distract me from the demon voices or my inner struggles. So that relationship was certainly a distraction. And the book was certainly a distraction. And with both of those things coming to an end in one sense, I didn't have these distractions. So I had to face what was actually going on. And I didn't really like that. So hence that. So actually my editor at William Morrow was really great and very empathetic. And so I went home for a couple months to Jersey to just kind of get better and get my shit together. And my boss at Bookish was great too and let me work remotely. So that's the benefit of being a freelance writer. You generally aren't making enough money. But you can do it from anywhere.