Show #438: Adam Johnson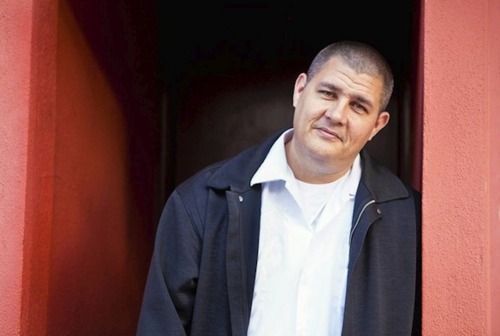 Show #438, which runs 59 minutes and 48 seconds, has just been released and can be listened to at this link.  I met Adam Johnson, author of The Orphan Master's Son, many weeks ago. Because he and I shared a similar larger-than-life enthusiasm in the way that we described things, I asked him if he was, like me, a native Californian.  It turns out that Johnson was born in Arizona.  It was certainly rather absurd that the two of us never ran into each other when I lived in San Francisco. 
I didn't realize that Adam had not eaten lunch until near the end of the conversation. To his great credit, he fired through an hour that touched upon Stephen Crane, Robert Coover, Nixon vs. Kim Jong-Il, North Korean propaganda, Soviet refrigerator factories, and Adam's disastrous (yet very funny) experience in journalism school, where he ended up fabricating quotes.  I did my best to curtail the conversation once Adam dropped this regrettable gustatory fact.  But we got a good hour anyway.  And I remain quite optimistic that Adam, shortly after more off-air exuberance, found a good sandwich somewhere.  In any event, here's the excerpt:
Correspondent: Stylistically, the first part of this book requires a great leap of faith for the reader. I mean, we're asked to believe that Jun Do, despite the fact that his story does not check out, gets released by the interrogator. That he would also go to Texas with Dr. Sung. I don't think I'm giving anything away.
Johnson: Sure.
Correspondent: But then you have this twist at the end of the first part. Then we are given this surprise and we say, "Oh ho! Maybe the narrative itself doesn't exactly match up." Then you have the second part. And the last part almost mimics Casablanca, which of course is a DVD of the world's best movie that is circulated as well through the text. You have all these references to storytelling. You have Sarge saying, "You think the guys at top don't know the real story?" You have Commander Ga wondering "if he couldn't tell a story that seemed natural enough to them now, but upon later consideration might contain the message he was looking for." So we're led to believe that storytelling, or perhaps this dim awareness of narrative, is very much the North Korean identity. And I'm curious how you arrived at this involuted solution to North Korea. In terms of why this, of all things, would be their identity.
Johnson: Well, storytelling is my obsession. I love stories. I love to write them and to read them. And I'm really fascinated with how they come out. Especially troubling stories. You know, happy, funny stories are very easy to tell. Stories of success and achievement. And they're a little boring. But, you know, I've studied for some time now how people tell traumatic or painful stories. And the different shapes that they take. And when I started studying North Korea, it made me reconsider how I tell my own stories, the stories I tell myself to feel good. In America, I think, in our literature and in our real lives, everyone is the center of her own story. And our job as humans and as characters is to follow our motivations toward what we want and need to overcome obstacles by looking inward and growing and changing and making discovery towards becoming our best possible selves. But, you know, as I studied the stories about North Korea, because the story there is state-sponsored, I realized that it was a national narrative written by a regime, enforced by a regime, controlled by censors, without another version. And in that, the very few people at top were the central characters. Really, the main character was Kim Il-Sung, Kim-Jong Il, and Kim Jong-un now.
And everyone else in that country was like a secondary character. And this is really borne out by my research and by the testimonials of defectors that, when you're a child in the DPRK, early on you're assessed for your aptitudes or certain qualities for the needs of the state. And you're sent down paths that lead toward becoming a fisherman or a sailor or an accordionist. And in that world, having your own desires and yearnings could run counter to the role that you might fulfill to survive. So I think I started with a character who's more trapped in a world of North Koreaness, where he must do what he's told, go where he's told. He does grim things. And it doesn't really matter who he is or what he does. It's just that the role will be fulfilled. Whereas in America, you know, we change our stories all the time. They grow and evolve. And when you go off to a new school or a new job, you just take on a new persona. You change. And I think over the course of the book, because the character meets Americans — he listens to foreign transmissions because he has some encounters; even though he doesn't defect; even though he keeps maintaining his role — a growing sense of possibility rises in him that he could finally write his own story rather than being conscripted into the state. And in the second part of the book, he does this daring act to try and become his own person. Though there he has to impersonate somebody else even.
Correspondent: Well, secondary characters. I mean, this book is filled with them. And I'm wondering if, from the limited resources you had at your disposal — I mean, you did in fact go to North Korea; we can talk about that in a little bit; I suppose it's an ineluctable subject — but I'm curious if you could truly, from your vantage point, get a suitable Tolstoyian cross-section when the information you had at your disposal is so thin. I mean, do you feel that there were certain secondary characters you didn't quite include in the book? That may have actually been included in the previous draft and you would have liked to flesh out further? How do you go about creating a fictive population when the information at your disposal is so thin?
Johnson: Well, I did kind of revel in the secondary characters in my book. I'm glad you point that out. Because I had a lot of fun with them. You know, just in terms of North Korea, what we know and what we don't know. We know very little about what happens in the secret power in Pyongyang. That the people who are ruling and who are inflicting the power upon others — we don't know that much. For the lives of normal citizens and the rest of the country — in Wonsan, Nampho, Chongjin, etcetera, we know a great deal actually. Over 6,000 people defected last year. When they make it to South Korea, and that's a whole journey in itself, they go to a facility called Hanawon, where they're debriefed. And a real narrative is written about each one of them. And then they go through a kind of school that helps them reintegrate into a vastly different society. But from the information that's gathered about normal citizens, we know how much they eat. How many hours they work. How their families live. About their housing blocks. About their group criticism sessions. We know how much volunteer labor they have to give to the squads. Etcetera. The mysterious people are in Pyongyang. They don't tend to defect. They're all underground. When you go to there, there's no White House or Blue House. There's no residence with Kim Jong-Il. He lives in an unseen place in the city. A lot of the big structures are underground. Probably because we bombed them so mercilessly during the Korean War. And there's an underground society that exists. And we don't know much about them at all. I saw cell phone towers when I was there, but not a single person on a phone. We have to assume they have the Internet, that they understand about the world, that they watch movies. They probably make international calls, even travel internationally. But because they don't leave, because they don't leave any trail, we just don't know who they are. And what I tried to do in my book was maybe fulfill the human dimension of the normal people outside the city. And, by that I mean, in a place with such self-censorship, in a place where even being perceived to do something against your role in the state could cost you dearly, I wondered how normal people chose to share their inner thoughts. This was the imaginative part. A lot of the factual basis of the book is really accurate. But would a parent tell a child that he thought it was all a lie? Would he transmit that essential knowledge that he accumulated over a life?